When I was thinking about the recipe to include this month, I got pretty far in the weeds trying to think about the perfect thing, but really, what I wanted to include was something that was pretty easy to put together, is usually a hit with all ages, and that makes great leftovers. Why was I overthinking? This is the one to have when you don't want to overthink (or think at all.) It's just delicious.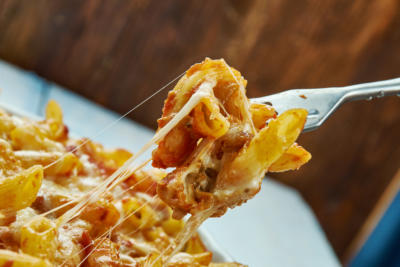 Weeknight Baked Ziti
2 tbsp. olive oil
1 whole large onion, diced
3 cloves garlic, minced
1 lb. Italian sausage
1 lb. ground beef
28 oz. can whole tomatoes, with juice
2 14.5 oz. cans tomato sauce
2 tsp. Italian seasoning
1/2 tsp. red pepper flakes
Kosher salt, to taste
Ground pepper, to taste
16 oz. ziti or mostaccioli, cooked until not quite al dente (don't overcook it!)
15 oz. tub part skim ricotta cheese
1 1/2 lb. mozzarella cheese, grated and divided
1/2 c. grated parmesan cheese
1 whole egg
Fresh minced parsley
Heat olive oil in a large pot over medium heat. Add onion and garlic and sauté for several minutes, or until they start to soften. Add Italian sausage and ground beef and cook until browned. Drain off excess fat.
Add tomatoes, tomato juice, salt, pepper, Italian seasoning, and red pepper flakes. Stir and simmer for 25 to 30 minutes. Remove approx 4 cups of sauce to a different bowl to cool down.
Preheat oven to 375˚.
Mix together ricotta cheese, 2 cups of the grated mozzarella, parmesan, egg, salt, and pepper in a separate bowl. Stir together until just blended. (Don't overmix.)
Drain the pasta and let cool slightly. Pour into a bowl and add the cooled meat sauce and toss to combine. Fold cheese mixture in just barely. You still want large lumps throughout.
Add half of the coated pasta to a large casserole dish. Spoon half of the remaining sauce over the top, then top with half of the remaining mozzarella cheese. Repeat with another layer of the coated pasta, the sauce, and the mozzarella. Bake for 20 minutes, or until bubbling. Remove from oven and let stand 5 minutes before serving. (Sprinkle chopped parsley over the pasta before serving for a little freshness.)