Don't get excited and think my family eats healthily at gatherings.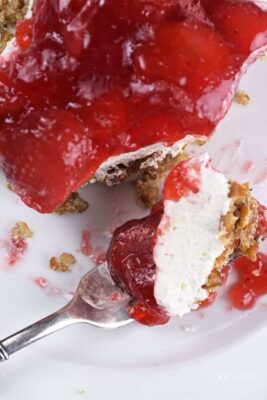 This "salad" is definitely more of a dessert. The good things? It's not too sweet, and the addition of the pretzels absolutely add that bit of salty contrast that makes it the perfect "salad" (wink, wink) to serve alongside just about anything on your spring menu.
We didn't create this recipe, by any means, but we definitely have taken it as our own. It was surely one of those dishes that my late Aunt Charlotte had on heavy rotation in spring. If it was fresh, light, and fruit filled, it made the cut. (Cool Whip or cream cheese was always a bonus, so this one became a standard and is still popular with all of us to this day.
Strawberry Pretzel Salad
2

cups

crushed thin salted pretzels (I love sticks for this)

3/4

cup

butter,

melted

3

tablespoons

sugar

8

ounces

cream cheese,

softened

 1

cup

sugar

 

1

(8-ounce)

container frozen whipped topping,

thawed

 

1

(6-ounce)

package strawberry Jello-O

 2

cups

boiling water

 

2

cups

thinly sliced fresh strawberries
Preheat oven to 400.

In a medium bowl, mix together crushed pretzels, butter, and 3 tbs sugar. Press into a lightly greased 9X13-inch pan. Bake for 8 minutes and cool completely.

Use an electric mixer to beat cream cheese and 1 cup sugar until smooth. Fold in whipped topping using a rubber spatula. Spread over cooled pretzel crust, making sure cream cheese mixture completely covers and seals in the crust.

Refrigerate for at least 30 minutes or overnight.

In a bowl, whisk together Jell-O and boiling water until Jell-O is completely dissolved. Add the strawberries. Refrigerate for 5 minutes and then pour on top of cream cheese layer. Refrigerate until firm.