It's hard to watch or listen to the news on any platform lately without getting some sort of news on the housing market. To hear the national news, things have cooled tremendously, but we all know that real estate is really local, right?
The story around here is, more or less, a simple tale of supply and demand.
A six month supply of housing units is widely considered to be a balanced market (neither buyer nor seller's market), and we are still in a market with only just over 1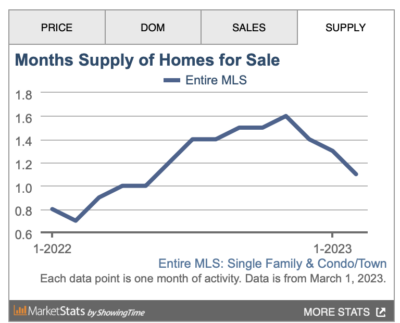 month's supply. That means the simple concept of supply and demand is going to keep prices steady for a while, and in many pockets of our market, keep things competitive. (For perspective, in February of 2022, the inventory low- we had only .7 months.)
For the same sort of perspective, in February or 2022, we only had 1544 active listings in our MLS, and this February, we closed out with 1792. That's just not that big of a jump, and the buyers are still out there. In fact, homes last year this time were selling on average for close to 107% of listing price, but this year, they are still selling at nearly 98%. (And that's an average. The median list price to closing price percentage is sitting at 100%)
Last January, the average sales price of a home in the area was $378,029. This January, that price is up to $388,060. Yes, that's up, for sure, but it's important to note that the average price in May 2022 was $435,893. Does that mean the market has dropped/cooled/changed?
Well, sort of.
Things have definitely been flattening out from the wild spikes of the last couple of years, and if you were hoping to get on the market and garner 20 cash offers with huge escalations and no inspections, you may well have missed that boat. However, despite what you hear on the national news, our market is in a much softer correcting cycle than many in the country.
Anecdotally, we have seen more and more buyers be able to have home inspections, appraisals, etc, over the last few months. That's been a very welcome change for the buyers out there, and we are still seeing them, but perhaps to a lesser degree at the moment. As we head into spring, and the spring market, we're definitely seeing more of those multiple offers, and more situations where those things are being waived again.
In short, while rates have definitely gone up, there are still lots of buyers out there looking for homes, and just not enough homes out there for them.
While we do anticipate that inventory loosening up a bit as the weather warms, we definitely need more listings! If you're thinking of selling, it's definitely a great time.
And if you're thinking of buying, we can get you where you want to be! What will it take? Just a little bit of planning, a little creative/out of the box thinking, and yes- patience.
If you have questions about the market, or just your little section of it, reach out! I'd love to break down the data that matters for YOU.
*Graph and data- MarketStats by ShowingTime