Let's face it. Moving stinks.
We never realize how much stuff we have until we go to move it, and it's nearly always a bigger job than we think it is.
While I always walk through and give my seller clients a list of things to do to maximize their sales price, there is so much you can get started on months before you move, that will make it exponentially easier when the time comes to actually put your home on the market.
Since you may be months, or even years, away, from moving, you're not really focusing on the buyers and their opinion yet. Right now, focus on what you've been putting off. (I guarantee you there is something, and it's usually the attic or the garage.)
The only thing less fun than doing some of this purging and organizing is doing it when you're on a deadline to get your home on the market. My recommendation? Start with one area at a time. You're ahead of the game, remember> That means you can allot two hours every Saturday (or whatever is comfortable for you and works with your schedule).
Why do you need to purge and organize these deep recesses of your home? Who even looks at those things anyway?
There are a few reasons, actually. First of all, you probably don't want to pack and move things that you don't want to keep, so it just makes sense to go through it periodically. Second, especially if you're downsizing, you'll want to know what you DO want to keep so you know how much storage space is at your new home. Third, if you've been in your home for a while, there are probably lots of things in closets, pantries, garage, and attic that you've totally forgotten about. Thinning all that down will help the potential buyers (even if they're a few months away) see themselves, and their "stuff" in the space.
So where to begin?
You'll need to – literally – decide where to begin. Attic? Basement? A hall closet whose contents haven't seen the light of day in years? It's okay to start small. One shelf or one corner of the attic is still progress.
Have boxes on hand for items you want to donate. You'll also make piles for keep, recycle, and trash.
As you're editing, be brutally honest with yourself. If you have boxes that haven't been opened since your last move, you probably don't need those items anymore. As yourself these questions as you decide what to keep: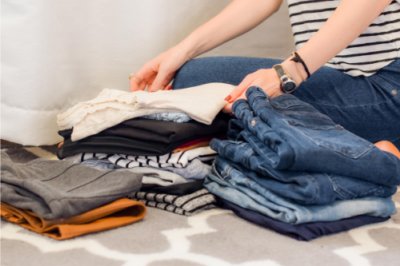 Do I use it?
Do I need it?
Do I love it?
If you don't answer yes to at least one of these, let it go. Remember, every item you keep will have to be packed, moved, unpacked, and require space in your new home.
When you're done with your purging for the day, make sure you get the items you aren't keeping out of the house! Leaving boxes of donations sitting around only gives you an opportunity to second guess yourself and undo all of your hard work and decision-making.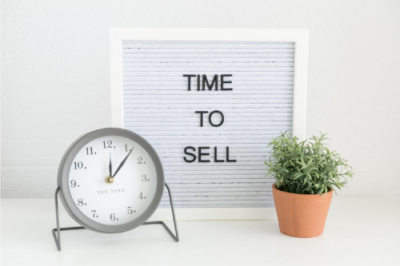 Plus, you'll be one step closer to having a home ready to put on the market!
Do you need to get started but don't know where to begin?
Hiring a professional organizer is a great place to start!
Mary Davis from In Good Order is a fantastic resource, and has helped me tremendously. She can help you both make a plan and help you execute it. (She can also keep you from going down memory lane with everything you're trying to purge!) Tune in every Monday in May as Mary and I team up to work through the whole process of moving!
Get more info on Mary HERE.