It's National Ice Cream Day!
I'm celebrating with some of my RVA ice cream (or ice cream like) favorites.
I've always loved ice cream. I mean, what says celebration, and summer, as much as ice cream? Just like so many things, I have a hard time picking a favorite, because sometimes that favorite just depends on my mood. So, here are a few (well, more than a few, really) of my faves. I'd love to hear yours!
When it comes to gelato, our overall, hands down favorite is Deluca Gelato at Gayton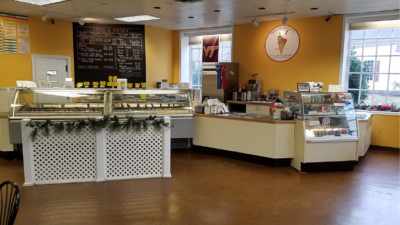 Crossing. Their gelato really transports you to Italy, and never disappoints. They've got all the classics- from Stracciatella and Spumoni to loads of sorbets and seasonal flavors. My favorites? I always go for a combo of Banana Nutella and Chocolate Sorbet, but you really can't go wrong here. (It's also very close to home, which is definitely a blessing and a curse.)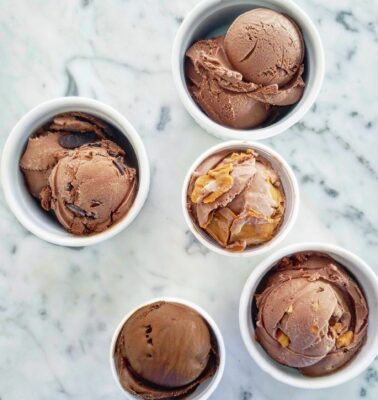 One of the longest running ice cream spots in Richmond is Gelati Celesti, and it's the OG for a reason. (When I had my cafe in the early '90's, in fact, I would not rest until I had a full scooping cabinet of their ice cream.) With multiple locations now, it's super easy to grab your favorite no matter where you are. My go to here is always "Just Ask," a delicious white chocolate ice cream with frozen peanut butter ribbons and Oreos.
We have some seriously fantastic "newer" additions to the Richmond ice cream scene, and yes, I have favorites there too!
Charm School Social Club on Broad Street (in the heart of the Arts District) has a great, slightly edgy/artsy vibe and fantastic ice cream and flavors. Anything is great, but whatever you choose, you must get the house made, toasted fluff on top. So damn good.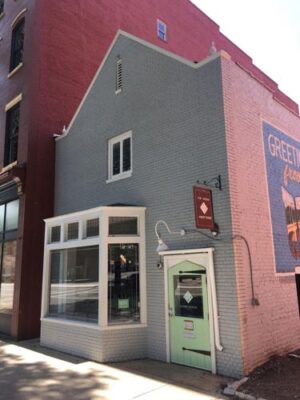 For flavors here, my favorites are Fruity Pebbles or Cereal Milk (obviously I have a thing for cereal) or the Princess Cake.
If you find yourself on Southside, Charm School's Study Hall is the place to stop by for some delicious soft serve. This walk up window has a more limited menu than their flagship, and soft serve only, with a rotating variety of flavors (and a killer Dole Whip!)
If you're looking for vegan ice cream, both locations of Charm School have good options for you, too!
Scoop is located in the Fan, tucked into a little spot on Strawberry Street (next to Idle Hands Bread Company, another favorite). They are a small batch creamery as well, offering unique flavors, brownie sundaes, ice cream flights (hello!) featuring three flavors, shakes, and custom ice cream sandwiches. My favorite flavor here was always Croissants & Jam, but that's no longer a signature flavor. (The nerve!) Now, it's a toss up between Banana Pudding (going away soon), Roasted Strawberry, and Brown Sugar Cookie Dough.
You may recognize the name Ruby Scoops from the Food Network show featuring Ben & Jerry's. Yes, she won the Grand Prize (justifiably so!)
Located on Brookland Park Boulevard in Richmond's North Side, here you'll find a rotating menu of unique flavors, from ice creams like Dulce de Leche and Black Sesame (my two favorites) to vegan flavors and sorbets.
Westray's Finest on Lombardy St. went from truck to cafe this year, and they've got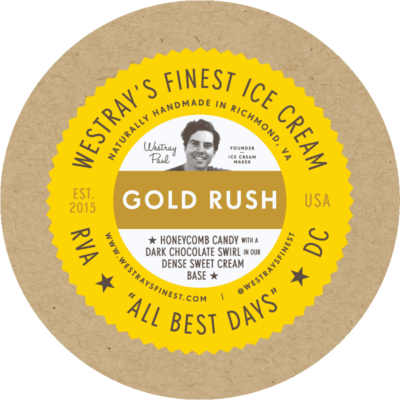 some seriously top tier, small batch handmade ice cream. My favorite there is Gold Rush (Sweet Cream base, Dark Chocolate Swirl, and Honeycomb Candy. Yes please!)
Bruster's has always been a favorite, since there is a location near my parents' house and we'd go there on hot summer evenings when my son was little. A great place to walk up, get a delicious sundae or waffle cone, and have lots of variety in flavors. ( A few locations have a drive through, too!)
If you're in the mood for something a little different than "just" ice cream (though none of the above are "just" ice cream!), here are a few of my other frozen favorites: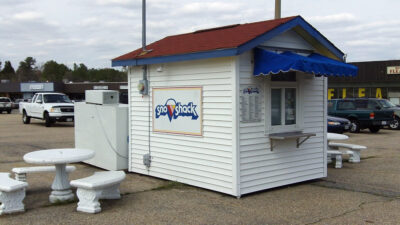 Sno Shack in Mechanicsville is the most unassuming little shack (yep, the name is no exaggeration) smack in the middle of a parking lot in Mechanicsville. With dozens of flavors for sweet, fluffy shaved ice, it's a true, old school, summertime treat. (Oh, yeah, they close after Labor Day, too, so get it in the summer or wait till next year!) My recommendation here? Tiger's Blood, with a Volcano. (A yummy blob of ice cream in the center of the magical ice!)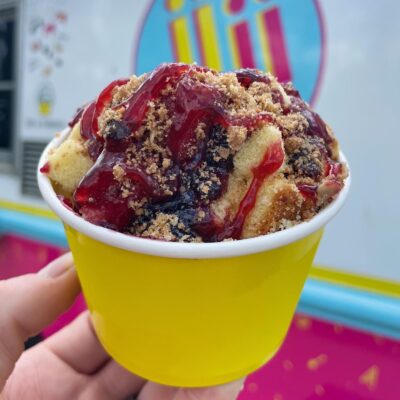 Another soft serve/custard option around town is JiJi's Frozen Custard. With delicious flavors that change periodically, and "Pundaes" to go with the event/season and the flavors, they always have something unique and tasty. They are a truck, so seldom in the same place at once, but follow them on social to know where they'll be.
There are a few new(er) places on my list to check out too-
Sweet Wynns is an ice cream workshop, giving you the opportunity to create your own handmade, custom flavor. How fun and delicious does that sound??
Graham's Ice Cream reopened in Mechanicsville a few months ago, with lots of fun flavors, sundaes, and shakes.
The only other "must have" on my list (as of today- that's always subject to change!) is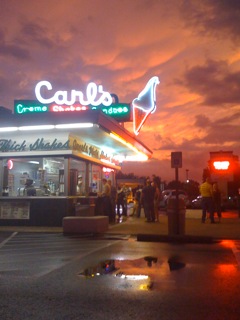 Carl's Frozen Custard in Fredericksburg. I got turned on to Carl's when my brother was at Mary Washington, and I've been a super fan ever since. Carl's is an institution, and in operation since 1947. Usually a line, always worth it, and 3 flavors- chocolate, vanilla, and strawberry. Why mess with perfection?
My go to is a Chocolate Strawberry Malt (not on the menu, but they'll make it.)
It's a must stop any time I'm going up I95, and I'll confess that on more than one occasion I've taken a cooler to buy a spare to have later.