Hot Summer Market Update
As summer draws to a close (how is that even possible?), our market in the Richmond area is still pretty hot! Here's a little break down of the late summer happenings. Stay tuned for fall and what's to come!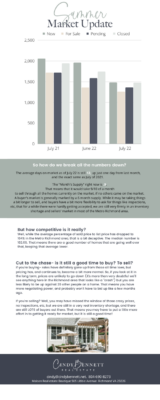 So let's break it down!
The average days on market as of July 22 is still 12, up just one day from last month, and the exact same as July of 2021.
The "Month's Supply" right now is .9. That means that it would take 9/10 of a month to sell through all the homes currently on the market, if no others came on the market. A buyer's market is generally marked by a 6 month supply. While it may be taking things a bit longer to sell, and buyers have a bit more flexibility to ask for things like inspections, etc, that for a while there were hardly getting accepted, we are still very firmly in an inventory shortage and sellers' market in most of the Metro Richmond area.
But how competitive is it really?
Well, while the average percentage of sold price to list price has dropped to 104% in the Metro Richmond area, that is a bit deceptive. The median number is 102.6%. That means there are a good number of homes that are going well over that, keeping that average lower.
Cut to the chase- is it still a good time to buy? To sell?
If you're buying- rates have definitely gone up from those all time lows, but pricing has, and continues to, become a bit more normal. So, if you look at it in the long term, prices are unlikely to go down (it's more than very doubtful we'll see anything here in the Richmond area that looks like a "crash") but you are less likely to be up against 20 other people on a home. That means you have more negotiating power, and probably won't have to bid up like a few months ago.
If you're selling? Well, you may have missed the window of those crazy prices, no inspections, etc, but we are still in a very real inventory shortage, and there are still LOTS of buyers out there. That means you may have to put a little more effort in to getting it ready for market, but it is still a good time!