This is another throw back family recipe, and one that was (and still is) one of my absolute favorites. It's the perfect summer treat that's not too sweet (and I mean, there's real fruit in there too!)
I'm including the original recipe below, but it occurred to me that I could surely substitute Greek yogurt for the sour cream, and honey for the sugar, adding a little protein, taking out the refined sugar, and making it just a bit healthier. I told my son Angus (who's 20) that it would never have occurred to my Aunt Charlotte to do that "back in the day," as there was really no such thing as Greek yogurt then. He could hardly wrap his brain around that, as of course, "Greek yogurt has been around since ancient times, Mom." Yes, son. Just not in Richmond, Virginia. I then explained to him how we used to eat lasagna made with Cottage Cheese, and that was pretty much all he could take.
Anyway, give it a try, either way, and let me know what you think. (Yogurt is a 1:1 substitution, but instead of the sugar, add about 2 TBS honey, or to taste.)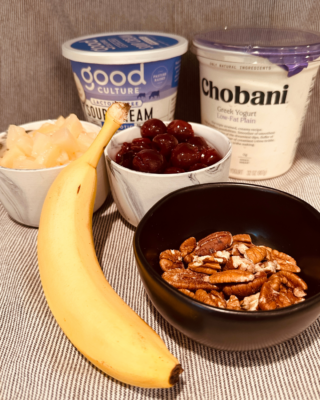 Frozen Fruit Salad
2 cups sour cream
1/2 cup sugar
2 tablespoons lemon juice
1 whole bananas, chopped
1 can crushed pineapple in water, drained
1 can bing cherries, drained
1/4 cup chopped pecans
Combine all ingredients in a large bowl. Spoon into foil muffin liners in a muffin pan, or silicone muffin cups. Freeze until firm.