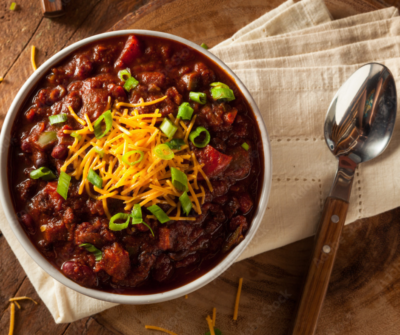 As we head in to fall, having a great chili recipe (and a crockpot!) on hand is crucial. With back to school, football Sundays, and busy weeknights, it's definitely one of my favorites for making things easy.
Here's one of my favorite recipes:
Crockpot Chili
2 pounds lean ground beef
1 medium yellow onion, diced
1 red bell pepper, seeded and chopped
2-3  garlic cloves, minced
30 ounces kidney beans, rinsed well and drained (2 15 oz cans)
15 ounces pinto beans, rinsed well and drained (1 can)
29 ounces diced tomatoes (use the entire can, including liquid)
3 ounces tomato paste
8 ounces tomato sauce
2 tablespoons Worcestershire sauce
1 cup beef broth
1 teaspoon hot sauce
2 tablespoons chili powder
1 tablespoon cocoa powder
1 teaspoon ground cumin
Brown the ground beef in a large skillet over medium heat until mostly cooked through.

Add the diced onion, bell pepper, and garlic and stir to combine. Cook over medium heat until onion is translucent.

Transfer the beef mixture to a 6 quart crockpot or slow cooker.

Add the beans.

Top with diced tomatoes, tomato paste, tomato sauce, Worcestershire sauce, beef broth and hot sauce.

Next add the seasonings (chili powder, cumin, paprika, cayenne, salt, pepper and cocoa). Stir to combine

Place the lid on the slow cooker and cook on low for 4 to 6 hours or on high for 2 to 3 hours, stirring occasionally.

Serve with toppings like shredded cheese, sour cream, tortilla chips, etc.