I started cooking when I was 11 or 12, and never really stopped. When I was 22 (yes, 22) I bought a cafe/catering business in Carytown, inheriting lots of great recipes and adding many more. That's been many years ago, but I do have most of those recipes still, and I did a second "release" of my cookbook last Christmas. In it, there are many of those recipes from Gourmet Delights, including this chicken salad.  It was a huge hit then and is still a hit now. (We had one customer who would nearly buy it out once a month and loads of people for whom it was seriously a mainstay in their diets.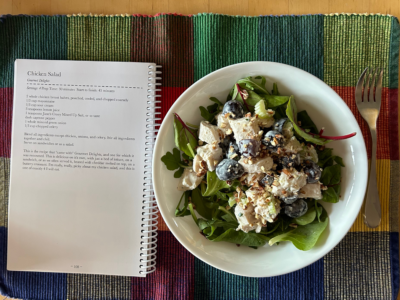 My brother took this shot with the chicken salad and the cookbook (obviously he took some liberties with the recipe) and I thought this one would be a great one to share as we get into the warmer months.
Gourmet Delights Chicken Salad
Servings: 4
Prep Time: 30 minutes
2 whole chicken breast halves, poached, cooled, and chopped coarsely
1/3 cup mayonnaise
1/3 cup sour cream
3 teaspoons lemon juice
1 teaspoon Jane's Crazy Mixed Up Salt
dash of cayenne pepper
1 whole minced green onion
1/3 cup chopped celery
Whisk together all ingredients except the chicken, green onion, and celery.
Stir sauce, chicken, green onion, and celery together and chill until ready to serve.
Modifications:
Preparation:
I love this with medium-sized cubes of chicken, but cut or shred the chicken to your liking.
Additions:
Halved grapes and crushed pecans
Dried cranberries and slivered almonds
Blueberries and blanched almonds
Add fresh herbs- 2 TBS parsley and 1 TBS chopped tarragon add great flavor and freshness
Get creative!
Serving:
Obviously makes a great sandwich, but terrific on a bed of lettuce, or old school in a hollowed out tomato. We also served this frequently as a melt, on a toasted croissant with a slice of melted cheddar. That was a big hit too!
Enjoy!