I don't know a single person that has had an easy time this year. (And that's an understatement.) We're all a little over these "unprecedented times," I think. Today, and every day lately, as 2020 has dragged on, I'm making a conscious ever to find those things for which to be grateful, even when it takes some serious thought to find them.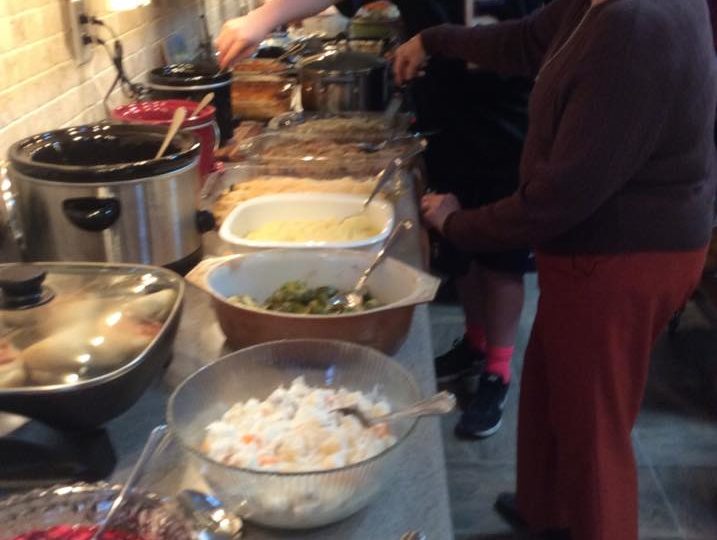 Every year for as long as I can remember, my mom and her sisters have multiple discussions about who's bringing what, talk about how we always have too much food, and always seem to land on something crazy, like "Let's keep it simple and just have lasagne," only to end up with guess what? Traditional food, and way too much of it. As it should be, and largely because my aunt Charlotte would convince my Mom that that would be crazy. It's just one day, she'd say, and of course she and Sue would help set up and do extra cooking.
More wrangling over who's bringing what, then once it's finally decided, Sue and Charlotte always arrive with three things that were never mentioned. I get this one more now, as I only have one child, who's not always home, half the time. When you love to cook, and live alone, the holidays are sort of like the Oscars, the Super Bowl, and the Miss America Pageant rolled into one. Not for showing off, but for trying all the things you've been wanting to try for people you love.
Happy chaos. A hundred people in the kitchen, loud and boisterous, the sound of plates and forks, shouts of "Is this the vegetarian one?" "Who made this?" and the inevitable, "I did, but it's too dry/not good/not the best/a new recipe," coming from Mom or one of my aunts.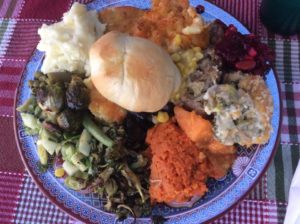 Then, as the noise migrates to the tables for a while, and my Dad would slip out (always the first in line with a plate, and the first to cut into the pie for "just a sliver" of each one) to start the dishes. Solo, and quiet, he'd be finished almost before anyone noticed, and in time for him to sneak out of the house for a little peace while we'd all break out the karaoke machine or start up some living room line dancing. Yeah, not everyone's tradition maybe, but always ours.
Last year was different, as we lost him in the spring. Never loud, never one to fill the air with useless words, he was the quiet, strong, and unbelievably kind heart of my family for sure. The one who could magically make so many things happen (including all the Thanksgiving dishes) with no fanfare or announcement, and while he never loved crowds, he loved our crowd. I mean, he loved knowing we were there, doing the Macarena, while he sat on the porch of his garage and dozed off quietly. I will never not be grateful for all of those Thanksgivings, and for having him as long as we did.
This year will be different still. Not only because of all of the 2020/Pandemic accommodations- the drastically smaller table, on the deck for safety, masks, and probably a few FaceTime or Zoom calls. We lost Charlotte suddenly in June, and I know that as my Mom gets things together, and Sue has been prepping what she's fixing for her smaller family dinner, that loss is more acute than it has been.
Our table will have at least 4 fewer dishes, and likely nothing with Cool Whip (or whipped cream), as she loved a light dessert, and was a master at them. No telling her we're eating at noon so she arrives by 12:30, with all of her dishes and the dollhouse and all its furniture for her granddaughters. I could list a thousand things about both of them, but I won't.
L to R: My mom, Phyllis, Charlotte, and Sue. My awesome dad in the background, the year he had a beard for the holidays.
What I will say is that if you have your people, even if you can't see them today, be thankful for them. If your traditions are weird, or not what your Norman Rockwell idea of Thanksgiving should be, they're still yours.
Today, and every day, I'm grateful for my people- family, friends, and clients, and for all of those holidays past. For every weirdo salad someone brought that combined Jello and cheese, or peas and mayonnaise. For every Electric Slide and Judds Christmas karaoke song. For the family gatherings that my ex husband would always say he enjoyed, but why did they have to last 7 hours? For the people we've lost, but were so blessed to have. For the people we have. For too many carbs, and too much pie, and for that turkey that's usually not that great.
Wishing you a wonderful day, whatever this year looks like. One day, this one too will be a memory, so here's to making it memorable, not worrying too much that it doesn't feel quite the same, and finding gratitude in those little things. They are for sure the ones we miss when they're gone.