You've signed a contract on a new home and now you're moving. Which means packing. And finding a mover. And arranging furniture. And unpacking. And finding places for ALL of the things. And. And. And…
One of the best ways to ensure a smooth move is to plan. Think about how you will live in your new house. Will you use the front door or the back door – and where will shoes end up once you've come in? Where is the most practical place for your vacuum, spare batteries, and wrapping paper? Plan what will go in each closet and cabinet. If you know where things will go and pack accordingly, you won't stress about those decisions as you're trying to unpack.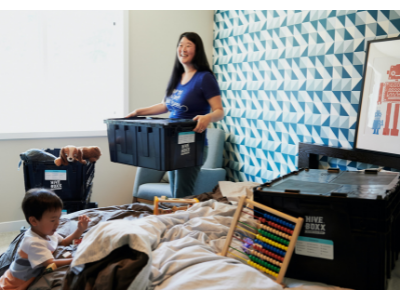 Before you start packing, think about what you shouldn't pack. You'll want to have some necessities on hand, such as a change of clothes and toiletries, toilet paper, and paper towels to tide you over until the movers are gone and you're able to unpack. We also suggest moving items yourself that can't be easily replaced, like medications and your vital documents. You'll also need packing supplies.
We suggest:
Moving boxes – try Go Green moving boxes. They're around the same price as cardboard boxes, and there's no taping. You're also not left with a giant stack of boxes to break down and get rid of
Wardrobe boxes or large heavy-duty shopping bags for hanging clothes
Packing paper and bubble wrap
Labels and Markers
Hopefully, you read our first post in this series and started purging before your house ever hit the market. But let's be honest, you can still probably let some things go. Why is it so important to purge before you move?
Packing is no fun, so why spend time (and money on supplies) packing items you don't want or need?
You will be paying a moving company to move items you won't use (or doing it yourself).
It will take you longer to unpack, and therefore longer to get settled into your new home.
So as you're packing, ask yourself those same questions – do I need, use, or love it? – and if the answers are no, no, and no, let it go.
Pack each box by the type of item(s) and what room it will go to in the new house. Use soft items like towels or linens to line the bottoms of boxes with breakables. Wrap breakable items generously and don't overstuff boxes. Label each box clearly by room (and which floor if it's a multi-level home) and list the types of items in the box. Group boxes by floor and room. This should make it more efficient for the movers to unload boxes and get them to their appropriate rooms.
Does all of this make you want to stay where you are? Hire a professional organizer who offers move services to do the packing and unpacking for you.